"So, this is what time travel feels like."
—Global Golf Post
Local Knowledge
The Lido Golf Club was designed by C.B. Macdonald on the shores of Long Island in 1914. It was considered by many golf historians as one of the greatest golf courses ever created, before it was demolished by the U.S. Navy during World War II.
Course Stats:
6,582 yards | par 72
Year the original closed:
Architect:
Tom Doak
Year opened:

The Lido is my favorite course at Sand Valley because…
The nostalgia of walking a course that went extinct in 1942 and then brought back to life on the grounds of Sand Valley makes Lido the obvious choice!
@kaelguy
The Lido Golf Club Returns
—GOLF
Holy Grail of lost courses is back
—Skratch
Crash Course: Lido
—No Laying Up
First timer pro tips:
A round at Lido is your chance to travel back in time to one of the most shimmering nuggets of golf's Golden Age. The legendary C.B. Macdonald was neither meek nor mild. Nor is his masterpiece design. It's best to know going in that Lido is a much a mental and emotional test as it is an examination of skill. Expect random bounces and rub-of-the-green in the extreme at this homage to St. Andrews, the beguiling home of golf. Savor the chance to hit shots that confounded players a century ago. Let go of your desire to master yourself at Lido and instead immerse yourself in a vision of golf as a journey replete with promise and peril.
The Three Lidos
—Golfers Journal
Yolk with Doak: The Lido
—The Fried Egg
What makes The Lido unique?
Peter Flory, an amateur golf historian, spent three years researching the original Lido golf course and assembled the most comprehensive collection of historical information and photos. He used that info to recreate The Lido in a 3D digital model and contributed his research to Tom Doak and the Keisers to support the project.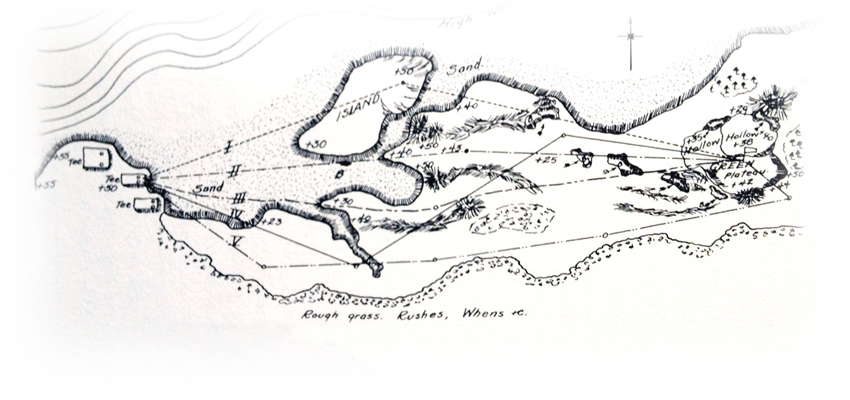 Did you know?
The 18th hole was initially created for a Country Life magazine contest in the U.K. by a budding, 34-year-old course architect named Dr. Alister MacKenzie. Yes, that MacKenzie, of Cypress Point and Augusta National fame. And Macdonald, who had helped conceive of the competition with the great British golf writer Bernard Darwin, liked MacKenzie's concept so much that he eagerly adapted the design for Lido's finisher.